PRIORITIZE PLAY
Bocce ball is a pastime hailing from Italy that has since become popular internationally. Because the game requires strategy and precision, maintaining a flat, level surface is important. Artificial turf is an easy-to-maintain choice, so it does not need the same amount of care and attention as organic grass. This is particularly important for a bocce ball court, which requires being kept in good condition to maintain a fair and fun game. Because of its resilience and resistance to heavy use and harsh weather, it can stand up to lots of use and can be played on as quickly as 30 minutes after rain, even better it'll hold up for years. Natural grass can get waterlogged and muddy in wet weather, making it unsuitable for playing bocce ball. You can be sure that artificial turf will stay dry and playable. So, bocce ball can be participated in all year round, regardless of the weather.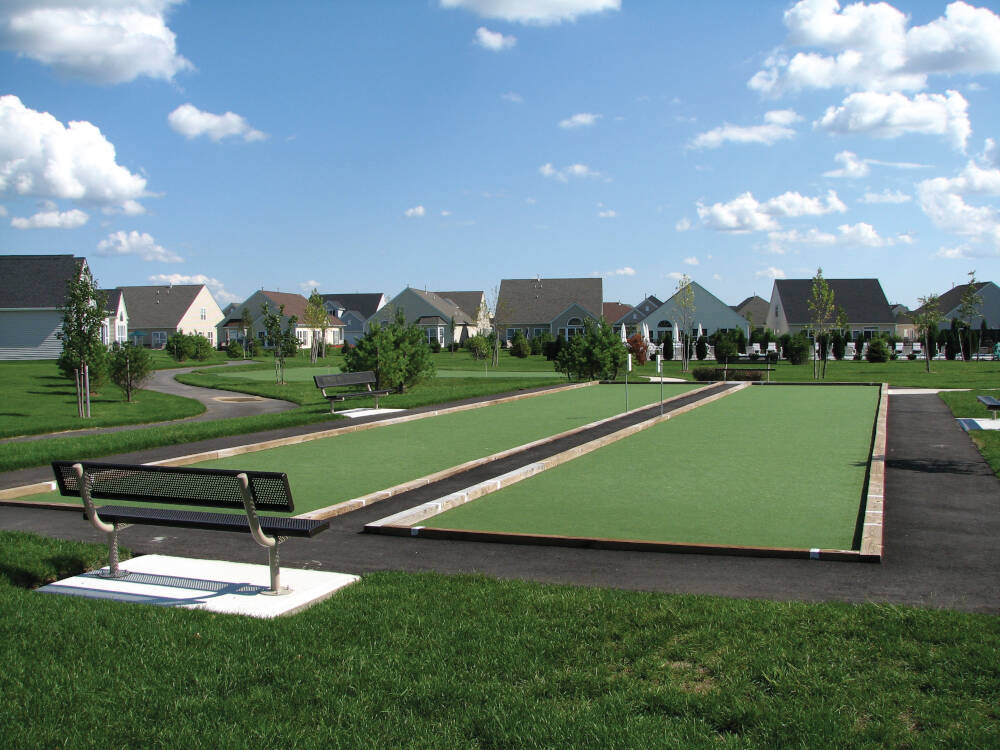 CUSTOMIZED BOCCE BALL COURTS
Bocce courts are typically built to be 60 feet by 12 feet, but the size of the court can be adapted to accommodate the playing space available. As leaders in the artificial turf industry, we've worked hard to offer you the highest-quality synthetic grass products for a wide range of applications. One of the many areas we dominate is built-to-spec bocce ball courts with a custom-made turf exclusively for Bocce. We understand how to make a perfect surface and base built for playability with expert installation provided by Southwest Greens of Illinois.
FUNCTIONAL & BEAUTIFUL
When it comes to envisioning a special turf surface for a bocce ball court, Southwest Greens of Illinois offers a range of options for your unique needs and preferences. Our long-standing putting green experience offer superior quality in bocce surfacing. Our premier bocce ball artificial turf is the SWG Bocce Pro. This turf is made with a dense, short pile height, which provides a consistent ball roll. Though proper installation will ensure that the ball will not bounce or roll unpredictably. The turf also has a lifelike hue and is infused with UV inhibitors to prevent fading over time. This turf is designed to give you an authentic look and feel. The SWG Bocce Pro turf is also very durable and can stand up to heavy use without showing signs of wear and tear. This makes it perfect for bocce ball courts that are used often.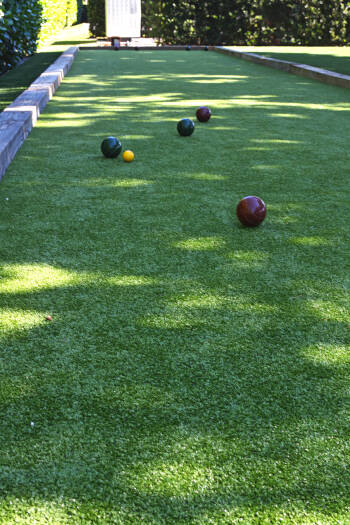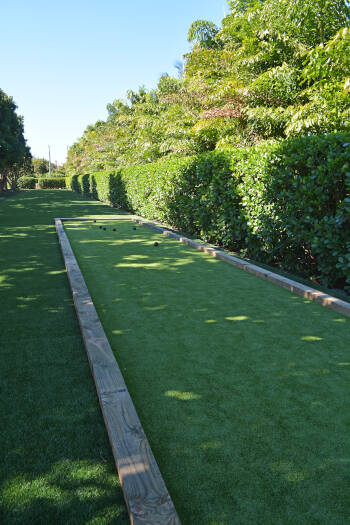 DESIGN IT YOUR WAY
We cherish beautiful greens. Make use of our tailored design services for your new bocce ball court. Here at Southwest Greens, we can create a customized design plan to suit your specific needs and preferences. The artificial turf bocce ball court can be tailored to fit your available space and have different patterns to create a unique and personalized look. Integrate logos or graphics into the design? We can do that, too. This is an perfect choice for businesses or organizations that aim to show off their brand.
GET A QUOTE TODAY
The team at Southwest Greens of Illinois can create a bocce ball surface that is both useful and aesthetically pleasing. Whether you're a Naperville residential customer looking to add an enjoyable, stimulating space to your backyard or a corporation looking to create an attractive outdoor area for your employees or customers, Southwest Greens has you taken care of!